Group Meditation
Unite To Spread The Light
The Importance of Group Meditation
Master Choa had always emphasised the importance of meditating in groups. According to Master Choa Kok Sui, when we meditate in a group, the amount of energy generated is much more than what each one of us can individually generate. It is said that when 7 people meditate in a group, the energy that is generated is equal to 100 people meditating individually. Therefore Group Meditation can also be an important form of service.
According to Master Choa Kok Sui, "just as Pranic Healing can 'miraculously' cure simple and severe ailments, the Meditation on Twin Hearts, when practiced by a large number of people, can miraculously heal the entire earth; thereby making the earth more harmonious and peaceful." Blessing the Mother Earth is a form of World Service Since it can miraculously heal the entire earth by transmuting all lower emotions and energies to love, harmony, peace, abundance and prosperity. Likewise, while meditating in a group, the energies can be anchored in a particular region or nation during emergencies or crisis. Doing the Meditation on Twin Hearts is a group is not only noble, but also generates a lot of good karma accelerating our development.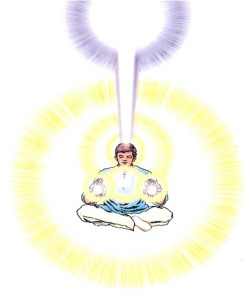 Full Moon Meditations
The most important occasion for group meditation occurs during the period of the full moon. During this period (2 days before, on the day of Full Moon and 2 days after) the planet earth receives a very high dose of energy from both the sun and the moon. For ordinary people this tends to be a time of crisis given that the emotions tend to get stirred up during this period. But for spiritual practitioners, this is a time for opportunity to harness these energies to improve different aspects of their lives. It is said that meditating during Full Moon day is equivalent to meditating every day for the entire month.
Full moon has always been a sacred time for spiritual practices in many ancient religions and cultures. Ancient esoteric traditions also teach us that each full moon meditation vitalizes the key qualities of each of the twelve constellations. These energies are greatly magnified by focused group energy and provide an opportunity to "seed" these energies into our being. The twelve festivals of the full moon correspond to the twelve chakras, and participating in group meditation during the period of the full moon contributes towards the development of these individual energy centres.
This is one of the reasons that the Local Foundation has been organizing regular group meditations on the full moon since our inception in 2004. The tremendous amount of energy generated during this period can by practicing the Meditation on the Twin Hearts be utilized to bless our projects, our loved ones, friends and family, and those who need healing for their ailments. In fact, stories of miraculous healing of loved ones, relationships and businesses are not uncommon during this time. This in itself is a strong incentive to participate in a group meditation at least once a month.
New Moon Meditations
The Local Foundation has also been organizing group meditation on The Lord's Prayer during the New Moon since 2008.
Why do we do this? No reason other than the fact that we need an excuse to make sure that Pranic Healers meet at least more than once a month to meditate in a group.
We use the New Moon meditation an opportunity for a deeper study of the teachings of Master Choa Kok Sui as well as deep cleansing and purification of our auras and chakras. Over the years we have covered numerous topics for deeper study including book study on The Spiritual Essence of Man, Inner Teachings of Hinduism Revealed, the Golden Lotus Sutras on Compassionate Objectivity and several others. Currently we are focusing on the deeper study of the Seven Rays and how the teachings can be applicable to different facets of our lives.
Join Us  
We believe that the effects of group meditations are both pervasive and long lasting.  It is therefore recommended that we utilize any opportunity to join a meditation group that we know of or form a meditation group in our own locality if we do not have access to an existing one.
We at the local foundation cordially invite all Pranic Healers to join us for the monthly group meditations so that we may transform our lives and those around us and create a healthier, happier and more peaceful world to live in. You may access our meditation schedule here.
Please check our website regularly for the monthly schedule for group meditations. You may also sign up to receive SMS updates from the local foundation about scheduled group meditations.   
Get Started With Pranic Healing