VCD's and DVD's of Master Choa Kok Sui
Over the years a few rare videos of Master Choa Kok Sui were created and have been made available for the use of students. These video recordings of Choa Kok Sui are currently available for purchase via the Foundation Office. We are working towards setting up an online storefront in the near future to enable you to order these books from the comfort of your home.
A special teachings from Master Choa Kok Sui on various topics including soul realization, spirituality, the power of mantras and the Meditation on Twin Hearts. Recorded live in Canda.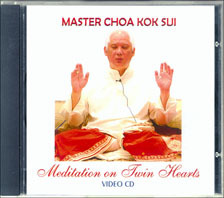 The Meditation on Twin Hearts VCD was recorded at Kolkata in 2006 during Master's last visit to India. This is a special meditation containing the Hindu version of the meditation on Twin Hearts.