Advanced Pranic Healing
Healing and Protection Series
Overview
Advanced Pranic Healing is a specialized course for those who are interested in becoming more effective healers and effectively treating serious ailments.
After learning the healing techniques in Basic Pranic Healing workshop, the student now will learn how to use different colour pranas to get faster and more effective results for a broad range of ailments. Just at white energy can be divided into 7 colours, each with certain properties; it is likewise possible to combine white prana with colour pranas to create a more focused effect on the aura and chakras.
Additionally advanced Pranic Healing provides techniques and protocols for dealing with a broad range of severe and chronic ailments. The difference between Basic Pranic Healing and Advanced Pranic Healing is basically similar to the difference between a General Doctor and a Specialist. As a healer Advanced Pranic Healing provides an opportunity to "upgrade" your healing skills to make healing faster and more effective.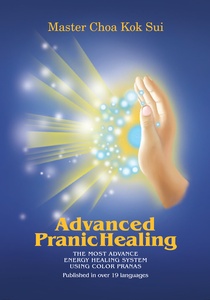 Here are some of skills taught in Advanced Pranic Healing:
Advanced colour healing: You'll learn to use the right proportion, colour combinations and degree of hue of coloured prana to accelerate the healing process.
Advanced scanning: You'll learn to interpret and assess more quickly and effectively the correction of imbalances in the energy field patterns.
Advanced techniques for Cleansing (General sweeping and localized sweeping) and Energizing
Instantaneous healing of fresh wounds.
Rapid healing of certain conditions like Wounds, Burns, Headaches, Stomach aches and Diarrhea.
Powerful specialized healing techniques: You'll learn Cellular Regeneration, Cleansing of the Internal Organs, Cleansing of the Blood, Master Healing technique, Super Healing technique and other techniques to boost the immune system.
Divine Healing technique to bring about 'miraculous' healing. The Divine Healing technique in itself is extremely powerful and uses spiritual energy for treating severe ailments – and is especially helpful in case of emergencies. The Divine Healing technique is something which is very important to learn.
Instructive healing: You'll learn to help accelerate healing and recovery by influencing and reprogramming the consciousness of diseased cells and organs.
In this workshop you will also be introduced to the Meditation on Twin Hearts with Self Pranic Healing
And much more…
Advanced Pranic healing also discusses protocols and methodologies for healing ailments of the different systems of the body, specifically:
Immunity and Defense system, e.g., Lymphatic system, Skin Infections, Eye Infections, Ear Infections, Tonsillitis and Mumps, Respiratory Infections, Gastrointestinal Infections, Liver Infections, Urinary Infections and Venereal Disease.
Disorders of the Eye, Ear and Throat, e.g., Nearsightedness, Farsightedness, Astigmatism, Cross-eyes, Walleyes, Floater, Glaucoma, Cataract, Deafness, Ruptured Eardrum, Glued Ear, Nerve Deafness, Tinnitus, Vertigo, Laryngitis, Mumps and Tonsillitis.
Skin Disorders, e.g., Itch, Eczema or Dermatitis, Mild Pimples, Chronic Severe Pimples, Chronic Boils, Skin Allergy, Psoriasis and Thinning Hair.
Heart and Circulatory ailments, e.g., Circulatory System, Partial Heart Block, Coronary Artery Disease, Irregular Heartbeat or Cardiac Arrhythmias, Inflammation of Heart or rheumatic Heart, Enlarged Heart, Defective Valve, Congenital Heart ailment, Arteriosclerosis or Atherosclerosis, Varicose Veins, Hypertension, Hypotension and Stroke.
Respiratory ailments, e.g., Respiratory System, Chronic Sinusitis, Chronic Cough, Lung Infections: Bronchitis, Influenza, Pneumonia, Tuberculosis, Asthma and Emphysema.
Gastro Intestinal ailments, e.g., Digestive system, Assimilative system, Eliminative system, Difficulty in Swallowing, Vomiting and Diarrhea, Constipation, Abdominal
Pain, Indigestion, Gastrointestinal Ulcer, Hemorrhoids, Hernia, High Cholesterol, Gastrointestinal Infections, Acute Appendicitis, Acute Pancreatitis, Gallstones,
Hepatitis and Assimilation Problems.
Urinary ailments, e.g., Urinary System, Infections of the Urinary Tube and Bladder, Infection and Inflammation of the Kidney, Kidney Stones, Stimulating Urination and Regeneration the Kidneys.
Reproductive ailments, e.g., Reproductive System, Dysmenorrhea, Irregular Menstruation, No Menstruation, Vulvitis, Vaginitis, Cervicitis, Ovarian Cyst, Myoma, Prolapsed Uterus, Enlarged Prostate, Sexual Impotence, Sterility, Venereal Disease, Pregnant Women, Avoiding Miscarriage, Preventing Miscarriage, Facilitating the birthing process, hastening recovery after giving birth and Birthing at home.
Endocrine ailments, e.g., Endocrine System, Diabetes due to the Body's Inability to make use of Insulin, Pancreatic Diabetes due to Insufficient Insulin, Hyperthyroidism and Ailments of the Endocrine Glands.
Skeletal and Muscular Disorders, e.g., Skeletal and Muscular System, Lower Back Pain, Sciatica and Herniated Disk, Scoliosis, Arthritis or Rheumatism, Inflammation of the Muscles and Tendons, Stiff Neck, Painful Shoulder, Gout, Degenerative Arthritis or Osteoarthritis, Rheumatoid Arthritis, Systemic Lupus Erythematosus, Sports Injuries, Muscle Cramps, Bursitis, Strain, Sprain, Hernia, Torn Tendons and Dislocation.
Blood Disorders, e.g., Blood, Anemia, Acute Allergy, Autoimmune Ailment and Leukemia.
Disorders of The Brain and Nervous System, e.g., Bell's Palsy, Facial Tics, Numbness, Epilepsy, Parkinson's Disease, Encephalitis, Meningitis and Mental Retardation.
Tumors and Cancer Meningitis, e.g., Benign Tumors, Cancer (proper pranic treatment, proper diet, proper emotions, law of forgiveness and law of mercy), Lung Cancer, Breast Cancer, Liver Cancer, Colon Cancer, Brain Cancer and Eye Cancer.
AIDS
If you are interested in alleviating the pain and sufferings of yourself, your loved ones and others Advanced Pranic Healing is one of the best choices as it teaches you a more specialized and advanced healing technology that enables you to perform rapid and effective healing.
Eligibility
Duration
16 hours (spread over a minimum of 2 days)
Workshop Fees
Rs. 4,500 (inclusive of GST). Workshop fees include book, CDs, and food & refreshments.
Review
You can review any workshop that you have already attended. The review fees for this workshop is Rs. 2,000 (inclusive of GST). Review fees include food & refreshments.
Please note that if you are not listed in our database as a graduate of this workshop then you will be asked to submit a copy of your certificate of completion for this workshop to participate for the review.
Color prana is more specialized and more potent than white prana. Using color prana instead of white prana is just like approaching a specialist instead of a general practitioner. Master Choa Kok Sui