Basic Pranic Healing
Healing and Protection Series
Overview
The Basic Pranic Healing is designed for everyone, from students to engineers, doctors to housewives, parents to teachers as it introduces methods of a healthy living. The knowledge inside Basic Pranic healing is designed to empower you to take your health into your own hands.
Basic Pranic Healing is the foundation which is designed to introduce students to the concepts of energy, our energetic anatomy (the aura and the chakras) and the basics of working with your energy aura to heal the body. This includes learning to "scan," or feel the energy, to "sweep," or clean away congested energy, and to "energize," or supplement areas in your aura that have a deficiency of energy. This workshop will also teach you to heal yourself and others of a large range of physical ailments. All Pranic Healing courses are "experiential," which means that you learn by actually performing the techniques and exercises in class – on yourself and those around you. During class, all the principles will be explained thoroughly and you will practice the techniques exhaustively so you will be confident in your ability to produce positive results when you finish the course.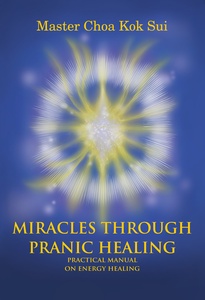 Here are some of the things that you will learn in this workshop:
Understand Prana (also known as Chi and Ki in different traditions). You will learn how to feel and even see this energy.
Understand your energetic anatomy which comprises of the aura, chakras and meridians.
Learn the role of the 11 major chakras in healing and helping the body recover.
Learn how to systematically remove energy blockages in the aura and the chakras. You are taught how to safely and properly absorb fresh Prana from the enviornment sot that it can be projected to the patient for accelerating recovery of the physical body.
You will learn to scan (or feel) the aura and the chakras

to accelerate the healing processes of your body.

Remedies for such common problems as fever, cough and cold, aches and pains, migraines and sinusitis. Step-by-step techniques for ailments related to the Respiratory system, Circulatory system, Gastrointestinal system, Musculoskeletal system and the Reproductive system.
How to maintain energetic hygiene.
Breathing techniques (or Pranic Breathing) to increase energy levels
Self-Pranic Healing
Divine Healing
Distant Healing to enable you to heal when the patient is not physically available in front of you. This is based on the principle of interconnectedness.
How to recharge yourself physically and mentally
How to maintain a good health using comprehensive techniques
Pranic Healing workshop also teaches a meditation called the Meditation on Twin Hearts, and includes topics on the Law or Karma and character building. The course not only teaches us how to heal, but also how to take charge of our life and improve it on all levels; how to improve interpersonal relationships, reduce stress, recharge yourself, and how to become more successful.  
Basic Pranic Healing is designed for everyone, from students to engineers, doctors to housewives, parents to teachers as it introduces methods of healthy living. People from all walks of life worldwide have learnt and benefited from Pranic Healing. You can be one of them!
Please note that Basic Pranic Healing is a prerequisite to all other courses (with the exception of Achieving Oneness with the Higher Soul).
Eligibility
Over 16 years of age. An open mind.
Duration
16 hours (spread over a minimum of 2 days)
Workshop Fees
Rs. 4,500 (inclusive of GST).
Workshop fees include books, CDs, and food & refreshments.
Review Fees
You can review any workshop that you have already attended. The review fees for this workshop is Rs. 2,000 (inclusive of GST). Review fees include food & refreshments.
Please note that if you are not listed in our database as a graduate of this workshop then you will be asked to submit a copy of your certificate of completion for this workshop to participate for the review.
Miracles are fantastic events, which utilize hidden Laws of Nature. Most people are unaware of these Laws. Miracles do not break the Laws of Nature; they are actually based on them. Master Choa Kok Sui
New To Pranic Healing? Get Started Today!